CoverCoppi
From now on, you can grill "outside" all along the year, while being protected from bad weather. You can now enjoy the sun from early spring to late autumn. Besides, you have the possibility to admire the sky and stars, also Northern lights, surrounded by your family and friends, while being covered and with all the comfort you wish. With its modern architecture, CoverCoppi brings more space for your house, shared space for collective housing or for your free time. CoverCoppi can also be used by your company during fair or exhibition, to present your products.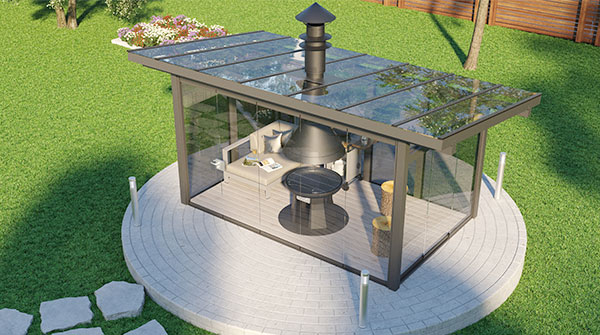 Durability, safety and ease of use have been considered for the design of CoverCoppi.
Resistant steel structure, according to standards in force, brings durability and safety to CoverCoppi.
The steel structure is combined with a glass roof, which does not require maintenance, for which strength calculations consider Finnish snow load strict requirement. On the sides, you can select COVER frameless glazing system, which open completely, sliding systems, with or without vertical frames or a combination of those. The CoverCoppi can be delivered with an opening for a chimney or without, whether it will be used as a kitchen or extra living-room.